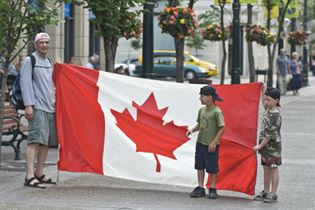 This week Calgary celebrated Canada Day 2012, hundreds gathered around the Centre Street bridge to view the stellar fireworks show, it didn't matter which side of the Bow River you were watching from, Calgary did an excellent job this year with their world class light show.

Celebrations kicked-off at Prince's Island Park around 11 a.m., some event highlights were the live bands and theatre performances, good music with happy people, what more could you ask for.

The RiverWalk was also busy with activities throughout the day, there were citizens on cycles celebrating and spreading the movement of creating a more sustainable means of transportation from Prince's Island all the way to Fort Calgary and East Village. Performers featuring urban music, spoken word, turntable & beatbox, and line dancing were also found on the RiverWalk. Downtown Calgary was busy with people on Stephen Avenue Walk enjoying leisurely strolls around the Historic District, taking in the culture, fine arts, and the many delectable foods. Speaking of food, Olympic Plaza had some memorable edibles for all those participating on this wonderful holiday, from stalls featuring local farmers and local restaurateurs, different food trucks offering a wide range of delicacies, they pretty much had everything there.

East Village had the classic car show sporting 200+ classic rides for all those car enthusiasts, and those families celebrating with young ones with them, Fort Calgary was packed with family friendly events for children; bouncing castles to pony rides. Canada Day was just terrific around Calgary, with so many events happening at the same time, the hardest thing was picking which event to go to, or which performance to see. Another wonderful year for Calgary, this celebration always makes me proud to be Canadian, nothing but good times with good people, in a place where happiness is just all around you.